Chief Nursing Officer for England visits St. Luke's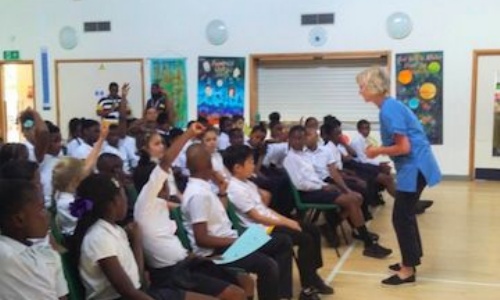 The importance of nursing as a career introduced to children.
Chief Nursing Officer visits St Luke's Primary School
Ruth May, the Chief Nursing Officer for England visited St. Luke's CEVA Primary School, at the start of an ambitious project to see nursing teams visit all primary schools in England over the next two years.
The strategy is aimed at 'catching' children early for the profession before they choose other career paths. Ruth spoke about her time as a nurse, and followed with an interactive nursing station with local nurses, demonstrating specific skills. The children loved the event and many indicated that it had changed their view of nursing as a career path.
The visit was built upon on Thursday 4 July, when a careers fair for the older children was held with companies from the tech world, construction, retail and public services being interviewed by the Year 5 & 6 pupils.
Matthew Hipperson, Headteacher at St. Luke's, said: "It was so interesting to see the children's minds opened up to what a nurse 'looks like' and what they do – the practical nature of the session enthused the children and so many hands went up to say they were interested in becoming nurses."